It's been a while since we last visited Sunni while she was in physical therapy after her shoulder surgery, so we thought we'd check in and see how, and what, she has been doing since completing her therapy.
After her discharge from PT Sunni continued resistance work until she had reached the level of strength and movement she had prior to surgery. Or so she thought because there was a bump on the road to recovery and it was due to impatience on Sunni's part. In her anxiousness to embody the Army's recruit commercials meme where she tried to be all that she could be, Sunni attempted some cross body resistance with more weight than she should have.
Clearly she did not read the last blog about herself, especially that part about patience. Which brings up lesson number one: Sometimes it's good to read your own press.
And while it caused some pain and was a slight set-back, it also brought up lesson number two which is this:  Don't overdo it shortly after you've completed therapy and you think you've completely healed. 
But, with time, patience, and an acceptance of a more realistic post-therapy plan, Sunni is back to the level she was prior to her surgery.  She is as active and can perform at the level she did before her injury (as evidenced in the images above and below).  And as impressive as climbing seventy foot walls, completing obstacle courses with a Ninja Warrior Warped Ramp, and all of her training activities are, it was a simple act that confirmed to her that she had finally reached her prior fitness level. She played catch with her son.  "When I was able to throw a baseball and football 30 to 40 feet that was a very happy moment."
She no longer has the pain she felt prior  to surgery, but she also understands that overdoing it can cause inflammation.  So she's more mindful and cautious about what she does and how she does it. And as a result she is less likely to suffer injury.
Sunni Scales Ninja Warrior Warped Ramp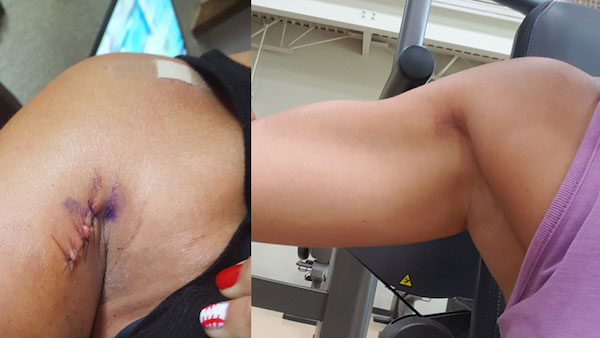 Sunni Just After Surgery and Today
Pinamonti Wellness Center's physical therapy division can help you with your rehabilitation needs,  treatment and prevention of athletic and orthopedic related injuries, treatment of chronic and acute pain, and even work injury. In addition we can aid in the area of performance training.  Call us today at 620-235-1500 for more information and to schedule an appointment. No doctor referral is necessary. Click here for more details: